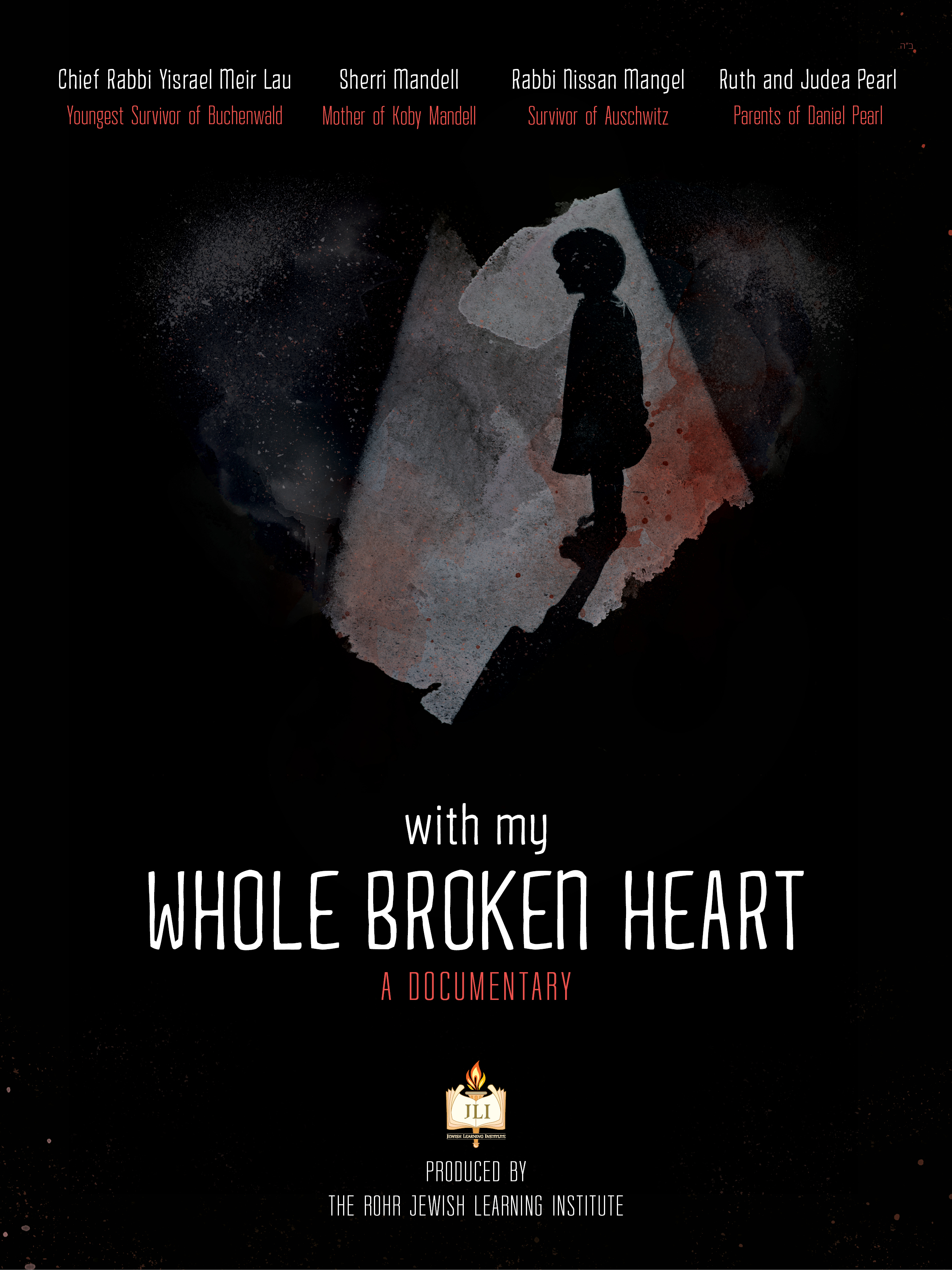 A NEW DOCUMENTARY AND TISHA B'AV PROGRAM
In the summer of 2001, two Jewish teenagers were hiking near their homes in the West Bank when they were stoned to death by Palestinian terrorists. A few months later, Daniel Pearl, a reporter for the Wall Street Journal, was kidnapped and murdered in Karachi, Pakistan; his last words: "My father's Jewish, my mother's Jewish, I'm Jewish."
With My Whole Broken Heart is a professionally-produced and emotionally-gripping 45-minute film featuring heart-wrenching stories of valiant parents whose children's lives were claimed by terror and their inspiring responses to their horrific experiences. The documentary also follows the lives of two of the youngest survivors of Auschwitz and Buchenwald who emerged from the darkness and transformed the Jewish landscape.
The film is framed around the Rebbe's response to the 1956 terror attack in Kfar Chabad that claimed lives of 5 students, and features interviews with Daniel's parents, Ruth and Judea Pearl; Sherri Mandel, mother of Kobi Mandell; former Israeli chief rabbi, Rabbi Yisrael Meir Lau; and Rabbi Nissan Mangel.
Schedule of Services
Shabbat (Saturday) evening, July 25th, Tisha B'Av Eve
Fast begins: 8:54 PM
Shabbat ends: 9:37 PM
Maariv & Eichah: 10:00 PM
Sunday, July 26th, Tisha B'Av Morning
Shachrit (no Tallit or Tefillin): 9:00 AM
Chatzot (midday): 1:34 PM
New Documentary Film Screening: 7:00 PM
Mincha (with Tallit and Tefillin): 8:00 PM
Fast Ends: 9:25 PM
May we merit to celebrate Tisha B'Av this year together with Moshiach and the rebuilding of our third Holy Temple, AMEN!
LOCATION
1760 South 1100 East, SLC, UT 84105
DATE AND TIME
Sunday, July 26, 2015 at 7:00 PM
Mincha Service following at 8:00 PM
CONTACT INFORMATION
801-467-7777
www.jewishutah.com
FEE
Free and open to the public