Rabbi Zippel tells about dinner at the White House
Carole Mikita reporting
KSL.COM
An invitation to the White House is something most Americans only imagine, but it happened this week to Rabbi Benny Zippel.
The rabbi says it was unexpected, surprising and exciting. He says he was honored to see how the president and first lady treated their guests and to learn of the measures they took to make sure the staff observed Jewish laws and rituals.
"I got the invitation about two weeks ago. It's something that's sort of confidential. There's not much advertising," said Rabbi Zippel.
He is talking about the now annual Hanukkah reception at the White House. He and other rabbis from around the country watched as Judea Pearlman, father of 
Wall Street Journal reporter Daniel Pearlman, who was murdered by terrorists, lit a family menorah in honor of his son. Rabbi Zippel described the scene as very moving.
"The flame always points upward. So, too, does the soul of man forever point upward toward its source, where it comes from, which is, of course, God," he said.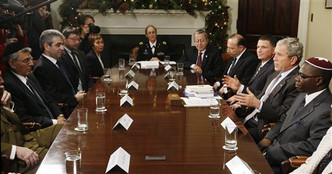 (AP Photo/Charles Dharapak)
President Bush posed for pictures with Rabbi Zippel and eight others from around the country who belong to Chabad Lubavitch, which is often called Hasidic, the world's largest Jewish outreach organization. Rabbi Zippel says their revered leader, Rebbe Menacham Schneerson, taught them to remember what a great nation this is, where there is freedom of worship.
"[The fact that] a president found it worthwhile to invite a representative from the state of Utah — which is by no stretch of the imagination a very big Jewish community — was very encouraging, very empowering, very comforting," he said.
The other remarkable part of this was the planning. Mrs. Bush posed with five rabbis who, spent days before the reception sterilizing the White House kitchen because the entire meal had to be strictly kosher.
"I think that that speaks volumes about the remarkable country that we live in," Rabbi Zippel said.
Rabbi Zippel says he will never forget that day in Washington, the center of political power, but where he found acceptance as a man of faith.